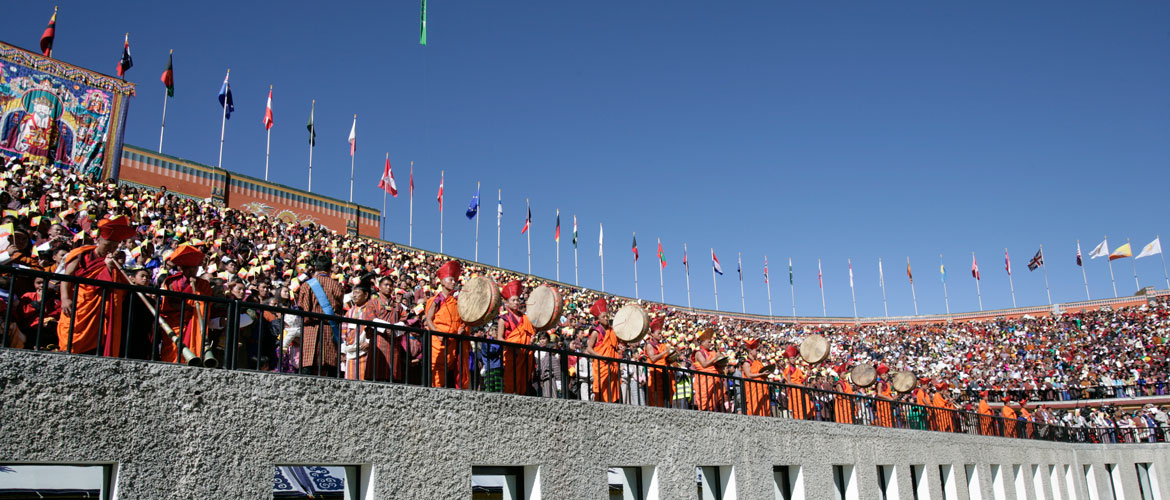 A spiritual leader unified Bhutan, and therefore his leadership influence naturally inclined towards religion, and spirituality. During this time period, and for many years that followed, monastic institutions were the only source of formal education in Bhutan. Thus, ordained monks were respected by the peasants, and the monastic institutions commanded significant influence over society. During the early formation of the governance structure in the newly formed state, a lot of the key positions were held by religious figures. Given this history of the significant roles played by the monastic institution during the formative years, Bhutan's culture, and traditions are deeply inspired from Buddhism.
The institutionalization of the 13 arts, and crafts of Bhutan is another distinct aspect to Bhutan's culture. The 13 arts and crafts were identified hand craft that were applied in construction of Bhutan's fortresses, temples and its interior design. The 13 arts and crafts among others include the art of painting, sculpting, calligraphy, woodcraft and metal casting. In order to preserve, and promote the arts, and crafts, all architectures in Bhutan strictly adhere to the guidelines that have been passed on for generations.
Another aspect of the Bhutanese culture is the celebration of Tsechu festival. Tsechu is a spiritual social event celebrated annually across Bhutan in the honor of Guru Rinpoche. Guru Rinpoche is believed to have introduced Buddhism in Bhutan in the 7th century. According to tradition, Tsechu is celebrated in the open courtyard of the magnificent medieval fortresses. During the event, monks perform a series of religion inspired dances, and chant prayers before the congregation. The sacred dances known as chaams are believed to invoke deities to bless people who attend the festival. Monks perform these dances wearing colorful silk costumes, and exquisitely hand crafted masks depicting pantheons of Buddhist gods and deities. The celebration usually lasts several days, and ends with the unfurling of a giant applique of Guru hoisted against the back-drop of a high rising central tower of the fortress. Locals consider themselves fortunate to be able to witness the painting, offer prayers, and receive blessings.