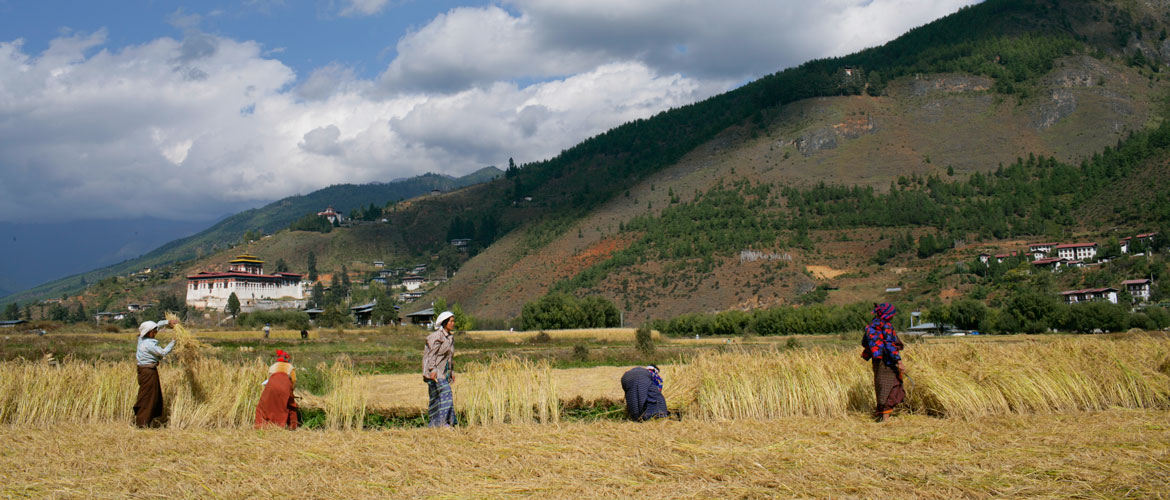 Day 01: Arrive at Paro International Airport and Drive to Thimphu
The runway of the Paro International Airport hides deep within layers of mountainous terrain. Flying into Bhutan can be quite an adventure particularly the final approach to the airport as the plane glides and maneuver the mountains before aligning to the runway. After the touch down, your assigned guide and driver will meet you at the airport and you will begin your drive to Thimphu. It will be an hour drive. On arrival, you will check in to your hotel and post lunch, you will do some sightseeing in Thimphu with an overnight halt in Thimphu.
Day 02: Drive to Punakha District
The ride to Punakha will begin early. En route, you will arrive at Dochula Pass at 3050 meters. If the weather permits, the significant elevation will offer you an unobstructed view of the entire eastern Himalayan range including Bhutan's highest mountain Gangkhar Puensum. After a short stop at the pass, you will continue your drive to Punakha valley. At Punakha, you will visit the popular temple of fertility and the Punakha Dzong among other attractions. Night halt in Punakha.
Day 03: Drive back to Paro
You will drive back to Paro early. It will be a three hour drive. Lunch will either be served en route or on arrival at Paro. In the afternoon, you will some cultural sightseeing. Attractions include the national museum, the Paro Dzong and exploring the quaint Paro town.  Night halt in Paro.
Day 04: Day Excursion to Chelela Pass
Chelela Pass is the highest pass accessible by motor able road in Bhutan. It has an elevation of 3900 meters. The pass divides Paro and Haa valley. The drive up to the pass can be a bliss full experience as the road takes you through diverse vegetation. One of the highlight of the excursion is the view of the snowcapped Mount Jomolhari. The beautiful mountain is considered one of the most sacred mountains in Bhutan. Once at the top, you may also choose to go on a hike to the ridge. You will pass sky burial spot and descend to a nunnery below the ridge.  Return to Paro in the evening and overnight in Paro.
Day 05: Hike to Taktsang Monastery
Considered the highlight of any trip to Bhutan, today you will hike to the most popular Tiger's nest monastery. You will drive up to the base of the monastery and begin your two hour hike to the top. Lunch will be served at a cafeteria en route. On arrival, you will visit the monastery and spend some time taking in the impressive view of the valley below.  You will then descend back to the base and drive back to the hotel. Night halt in Paro.
Day 06: Depart from Paro